A Legacy Product
The last version of Serif's flagship product for Desktop Publishing (DTP) can no longer be bought from Serif. If you go to Serif's website, they will be keen to tell you about their new Affinity Products. Affinity Publisher, may eventually be a better choice, but currently it lacks many of the features found in PagePlus X9. Only you can decide if the trade-off is worthwhile. Files created in PagePlus cannot be imported into Affinity Publisher, so if you upgrade later, you will still need to keep PagePlus to open your previous work.
Professional Features
In spite of its very low price (PagePlus was never more than £100), it is a mature programme with most of the features found in professional publishing programs like InDesign, Quark, or PageMaker.
High quality PDF output
Optical Justification, a.k.a. Optical Margin Alignment
Fine adjustment of tracking and kerning with GPOS Kerning support
Powerful OpenType Feature Support
Baseline Grid Alignment
Index and Table of Contents generation with hyperlinks
Footnotes, Endnotes, and Cross-references
Multi-lingual spell-check with Hunspell dictionary support
Import documents from Word or LibreOffice complete with footnotes and tables
Tables, Calendars, and Charts
Features for Amateurs
From the beginning, PagePlus was designed to appeal to home users who want scanning, drawing, photo-editing, filter effects, text on a curve, logos, and other graphics tools built-in, without the need to own and learn multiple programs. The built-in Image Cut-out Studio and PhotoLab may be no substitute for PhotoShop, but they have adequate power for the home publisher or small charity. Ticket printing, greeting cards, menus, DVD covers, calendars, banners, and posters can all be created with ease.
Decorative graphic borders have been available since early versions, but recent versions offer an even higher degree and ease of customisation. These are great for posters and certificates.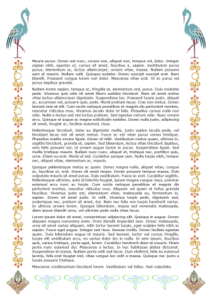 Customisable Interface
Regular users will find the high degree of customisation that PagePlus allows extremely helpful to enhance productivity. Customised work spaces designed for specific project types, or to suit different sized monitors, can be saved and reloaded at any time. Shortcuts can be assigned to the most frequently used commands, and the defaults can be changed. Even the icons on the toolbars can be edited and imported. Key features that enhance productivity:
Restore Last Session to load all publications that you were last working on, zoomed to the page that you were last editing, to  resume wherever you left off.
Tile publications for easy drag and drop between them
Save assets for reuse in other publications
Import documents from Word or LibreOffice complete with footnotes and tables
Export any design as a graphic in any common format
Read my Full Review on Softerviews.org, for more details of the available features, and PDF tutorials to get new users started with the more complex features.