Ignore the FUD • Gigafactories • Performance • TSLA to Mars • FSD Beta • Model S Plaid • Extreme Journey • Tesla Conquers Ford• Tesla Energy • Tesla Semi-truck • Q4 2022 Earnings • Investors Day
Never mind the outstanding acceleration, low running costs, and quiet ride, there are other stronger reasons why Teslas are a game-changer in the market-place.
Watch this video on Someone Killed My Model 3 – but we're uninjured! to see what they are:
Autopilot and Collision Avoidance Systems
Auto-updates of software whenever improvements are made
Structural strength to protect occupants from collisions
Alert sent to the company if an accident occurs.
IMAGINE that you're female or an elderly driver involved in a collision on a rural road at night. The car immediately alerts Tesla to the fact that your vehicle has been involved in a collision, and someone calls your mobile to check if you need assistance. Data about the collision is collated, and improvements can be made to improve braking, autopilot, etc., then issued as updates within weeks (as happened when a car review site highlighted longer stopping distances).
Drivers need to understand that the current autonomous driving is driver-assist, not full self-driving. Even Autopilot on aircraft needs to be overridden by the pilot sometimes, and there are not nearly so many other close-proximity vehicles in the sky as there are on the road.
How the Tesla Model 3 Became the World's Safest Car
Full Self-driving is getting close, but is still in Beta, at the beginning of 2023. It may take a few more years before regulators will permit cars on the road without a driver. The UK may take even longer to catch up with the US, but by the end of 2025 expect to see fully autonomous vehicles on the roads.
No Need to Advertise
While other car manufacturers are spending huge amounts of money on advertising and dealerships, Tesla needs neither. Tesla fans create countless videos on social media reviewing their cars, and some go to great lengths to build customised Tesla models. When other EV manufacturers advertise their products, the inquiries and sales of Tesla cars increase when buyers do their research and realise that Teslas offer better value for the total cost of ownership, and have superior software.
Tug of War: Cybertruck vs Ford F-150
Ignore the FUD
Whenever disruptive technology first appears, many say that it will never catch on, and are quick to point out the disadvantages. They do not understand the issues at all.
The Range is Too Limited
CURRENTLY, the range is about 300 miles on a single charge. That is adequate for daily use, but for long journeys one will have to stop to recharge. However, one should stop after four hours anyway, if only to take a toilet break and buy a snack. Super-chargers can add 80% of the car's range in about half an hour. The new model S has a range of 400 miles, the Cybertruck will have a range of 520 miles, and the Roadster a range of 600 miles.
They Cost Too much
The initial purchase price is high, but the total cost of ownership breaks even after about five years, depending on the model and the mileage. Lower maintenance, depreciation, and insurance will mean significant savings. Tesla insurance has a significant advantage over other companies because Tesla have vast amounts of data about each user's real-world driving habits, so they can offer lower insurance premiums to safer drivers.
Long-term Cost of Ownership: Model 3 vs Toyota Camry
Full self-driving will allow your investment to earn money whenever you're not using it. The vehicle may wear out sooner if used as a robotaxi, but it will earn many times its purchase price in revenue.
Even if you don't want to have strangers riding in your smart new car, you can send the kids to school in it, transport elderly relatives to the shops or hospital, fetch urgent deliveries, etc., all from the comfort of your home or office without spending your precious time to be an unpaid chauffeur.
Where will the Extra Electricity Come From?
Solar, wind, wave, and tidal energy are increasing. The main problem with solar and wind is storage. Polar Night Energy have one of many possible solutions to this problem. An electric vehicle connected to the grid is a power storage device. Charge it when the wind blows, and feed energy back to the grid when you do not need to use it. Invest in a solar roof to produce all that you need for your own use.
How will you charge during a power outage?
Hurricane Ian in late September 2022 caused severe problems in Florida. Bearded Tesla Guy, who lives in Orlando, checked out Charging stations and Gas stations on the Friday after the storm had passed. He had the sense to charge his Tesla to 90%. Petrol was not available before and after the storm, whereas electrical power was available nearly everywhere, and the Tesla App shows which superchargers are functional.
Electricity is Not Green if Produced from Fossil Fuels
Some electricity is produced by burning coal, but more and more is now produced from renewable resources. Octopus account holders use only electricity purchased from renewable sources. • Are Electric Cars Really Green? Even if the electricity is generated using coal, EVs use the energy much more efficiently, and have no tailpipes emitting toxic pollutants at street level.
The World will Run Out of Lithium
Lithium may become more expensive, but that will drive the search for alternative sources. Nearly 100% of lithium can be recycled. Degraded EV batteries can be used for Power Walls; degraded Power Wall batteries can be stripped and the lithium recycled. We don't need to throw away aluminium, copper, or lead; why would we throw away lithium? • The Race to Recycle Batteries.
FSD Won't Work Without Lane Markings
Comments like: "Come round here in the sticks and try that on single track roads with no markings or features and see how the Tesla self-drives with mud for verges," are based on gross ignorance of how Tesla FSD works.
If the lane-markings are not present, a Tesla can drive using just the cameras and GPS mapping data (for route-planning). On a single-track road with no markings and no kerbs, it will drive safely in the middle of the road, until another vehicle approaches, then it would move to the side to avoid the oncoming vehicle. If a slow-moving vehicle, bicycle, or horse is up ahead, it will slow down, and move to the opposite side to pass when it is safe to do so. It is especially cautious around vulnerable road users like cyclists and pedestrians. The software can detect trash-bins, traffic-cones, large dogs, and speed bumps. It does not detect small animals yet, but something like a deer is detected. Future versions will, no doubt, improve detection of small animals, and pot-holes or road-debris.
Gigafactories
Work at the Gigafactory in Texas continues at a rapid rate all over the huge site, not just at the main factory building. They are constructing an electricity substation, extending car parking areas for workers and new vehicle storage before shipping, and there is even a Heliport.
January 2023 Update: Work at the Texas Gigafactory began on 23rd July 2020. The grand opening was held on 7th April 2022. Behind the Scenes Supercut (Tesla Daily). The Battery Cathode plant is closed in, and steel erection has started on a second building next to it. The Solar Panels on the main factory roof outline the word TESLA. Most of the roof will eventually be covered in solar panels, providing an estimated total capacity of 50 Megawatts when it is completed. Gigafactory Texas produced its 10,000th Model Y on September 17th, and its 20,000th Model Y on October 30th. The 450m extension of the main factory building is progressing well, and the first IDRA massive Gigapress parts are arriving for the Cybertruck castings.
March 2023 Update: Gigafactory Berlin reached 5,000 vehicles per week run-rate.
Gigafactory Mexico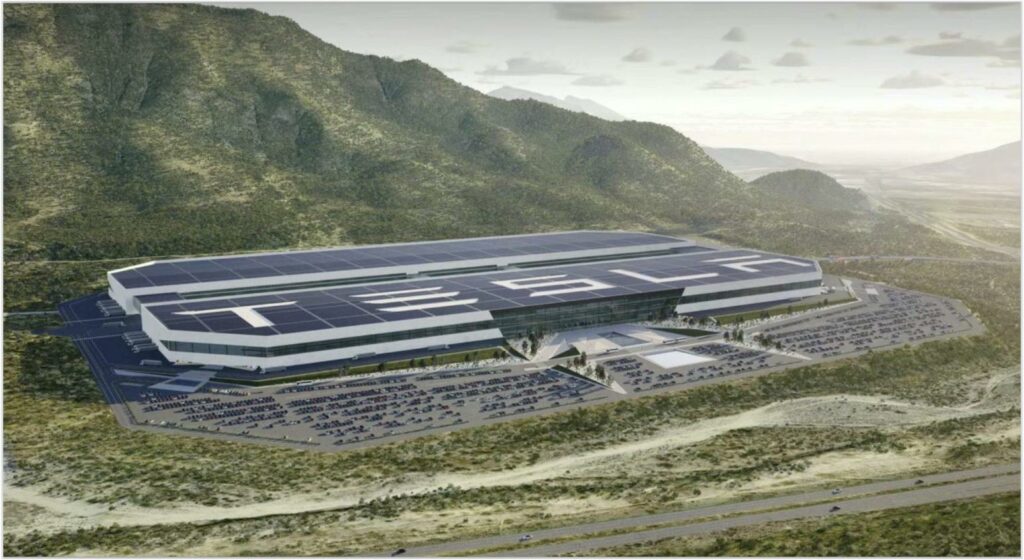 Tesla's planned factory near Monterrey in Nuevo Leon will be built on a site spanning almost 4,200 acres in an industrial zone. It will also be substantially larger than the Gigafactory Texas complex, which is listed by Tesla as 2,500 acres. The site is expected to produce the next generation $25,000 vehicle. Official announcements likely to be made at the ground-breaking ceremony in June/July 2023.
Texas Gigafactory Layout
Joe Tegtmeyer does regular drone flyovers of the Gigafactory at Austin, Texas, with a detailed description of the work that is currently in progress. His video of 13th April 2022 provides an update on the layout of the factory. This video took a lookback at how construction began..
Performance
In 2020, a production Tesla Model 3 Performance set a new world record for the annual Pike's Peak hill climb race. Sponsored by Tesla fans without corporate finance, they achieved an amazing result.
28th June 2021 Update: Unplugged Performance win the Exhibition Class with the Tesla Model S Plaid.
3rd August 2021 Update: Unplugged Performance sets a new lap record of 1:28:21 on Laguna Seca.
10th September 2021 Update: Model S Plaid (unmodified production car) sets a new world record at the Nürburgring.
27th November 2021: Model S Plaid production vehicle, with passenger seat removed, achieves 8.944 seconds for the quarter mile drag race.
28th June 2022: Unplugged performance Model S Plaid severely hampered by foggy conditions on Pikes Peak and a fogged up windscreen.
30th June 2022: Tesla Model S Plaid achieves record 216 mph top speed. The factory model is software limited to 175 mph, for safety reasons, but after bypassing that, 216 mph was achieved.
ANOTHER perfect market for Tesla Performance cars are Police, Paramedics, and others who do a lot of mileage or need to get around fast. The Police department is talking to Tesla engineers to incorporate their radios into the software. They can securely store equipment such as computers and weapons, and allow access to medical equipment in the frunk using their mobile without leaving the victim. Boulder City Police bought a fleet of Tesla cars in August 2022.
🚀 TSLA to Mars 🚀
The TSLA stock price fell for most of 2022, but has recovered significantly in January 2023. I am confident that the long-term growth will continue to trend upwards for many more years. At market close on 29th March 2023, the price was $193.88. TSLA stock is valued at 53% of its price a year ago ($364.6633). Rob Maurer of Tesla Daily gives his views on how to deal with the Volatility of TSLA. He is always worth listening to, offering a well-balanced view.
If you invest for the long-term, low prices are a great opportunity to buy more shares at a bargain price. Look at the growth over at least three to five years to know the true value of an investment. Think of it as a pension fund, or a college fund for your children, not as a building society savings account for holiday trips or emergencies. If you have to sell at short notice, you may lose a big slice of your investment. In a single day, the stock price can fall by 5-10%, but it can also rise just as quickly. If in doubt, zoom out!
The Competition is Coming!
SEVERAL manufacturers have released premium range electric cars that can be compared to Tesla cars. The Lucid Air Dream edition at $180,000 is significantly more expensive than the Model S Plaid, and still with limited production. The end of December 2021 saw the delivery of the first few vehicles to customers. Production targets for 2022 have been reduced from 20,000 to 6-7,000 for 2022. Ford admitted that their popular Mach-E is not profitable. Rivian has massive debts, and its R1T is Not Cutting It.
FSD Beta
March 8th 2023: FSD Beta v11.3.1 has started going out to a limited number of testers. This unifies the vision and planning stack on and off-highway and replaces the legacy highway stack, which is over four years old. (Source: Teslarati) Earlier reports that there are significant improvements, though some features are not yet implemented. Updates required by NHTSA are included.
March 26th 2023: FSD Beta v11.3.3 has started going out to beta testers.
Model S Plaid
On June 10th 2021, Tesla held a delivery event for the Model S and X Plaid versions. The Model S Plaid was the quickest production car of any kind. (The Rimac Nivera is quicker, but it is a limited edition super-car). Review by Tesla Raj. The Lucid Air Dream edition recorded a time of 9.912 on 28th December 2021. The Lucid Air Sapphire is now the world's quickest car.
Review of Model S Plaid by Fully Charged.
Extreme Journey
Can a Tesla Take this Freezing Abuse?
Lars, of BestInTESLA, drives his three-year-old Tesla to the north of Norway, the land of EVs. Heading for the Arctic Circle in Winter, up and down mountains, sleeping in the car.
Tesla Conquers Ford
No Sweat. The weight of EVs stops them floating in several feet of water. The battery packs and drive-train are well-sealed against water ingress. Ford Kuga ICE chokes and fails.
Tesla Energy
Tesla Energy will benefit from Federal Tax Credits for Solar Roofs, Solar Panels, and Battery Storage (Power Packs), Rob Maurer reports on Tesla Daily. Many owners of Power Walls are enjoying good profits from selling energy to the grid during events at $2 per KwH. On 15/12/2022 Tesla Launched Tesla Electric for Texas. Virtual Power Plants can offer some protection from black-outs during Winter storms or Summer floods.
Tesla Semi-truck
December 1st 2022 saw the delivery of the first Semi-trucks to Pepsi Cola.
In the US, heavy trucks account for 20% of vehicle emissions, and 36% of vehicle particulate emissions, so it is important for health reasons, especially for people living near highways
Tesla's mission to accelerate the transition to sustainable energy
Three plaid motors — one is always engaged, the other two are used when needed for high torque and acceleration
Drive at full-speed up gradients
Regenerative braking down gradients is much safer than brakes that can overheat and fail
2 kWh per mile efficiency. 500-mile range tested from Fremont to San Diego
Comfortable to drive with plenty of cabin storage
Version 4, 1 Megawatt charger will also be coming to the Cybertruck
24th January 2023, announcement of a $3.5 Billion investment in a new Gigafactory in Nevada to build 50,000 Semi-trucks by the end of 2024.
Q4 2022 Earnings
2022 was the best year ever. Tesla achieved a 17% operating margin, $12.5 billion in nett income, and $7.5 billion in free cash flow, despite significant challenges.
Demand is about twice the rate of production.
Costs are dropping with growth in production at Berlin and Austin, as expected.
FSD Beta is deployed to about 400K customers in N. America.
4680 Battery Cell production increased by 100GWh.
Energy storage saw record growth and continues to accelerate.
We expect Federal credits for cell production to become very significant, if we get anywhere near our 1,000 GWh target.
17% of customers are using Tesla Insurance, and that is increasing. Many small changes to vehicle design to bring down repair costs.
Cybertruck production will start Summer of 2023, but will be small at first.
Vehicle production target 1.8 million, but could be 2 million if everything goes smoothly.
Investors Day
1st March 2023
Converting the Earth to Sustainable Energy
Next Generation car will be manufactured more efficiently
Cybertruck will be released this year. Video of Beta Prototype.
Powertrain factory will be more efficient
Reduce or eliminate use of Rare Earths
Fewer wires for controllers reduced weight and complexity
Cybertruck and future vehicles will us more efficient 48 volt Lithium low-voltage batteries that will last for the life-time of the vehicle.
Real crash data improves vehicle safety design
Real travel data influences the optimal size of battery packs and adjusts the suspension for rough roads.
Optimus robot is improving with real-world artificial intelligence. It uses custom actuators designed by Tesla engineers.
Supercharging is getting cheaper and faster. Stations are opening up to other electric vehicles. A/C stations using more renewable energy.
New factories for Lithium refining and Cathode manufacture.
Rapid growth of Tesla Megapack. Costs declining, and deployment getting faster. Electronic controllers to stabilise the grid.
Unlimited overnight charging in Texas for $30 a month.
Next generation vehicle will cost 50% less and may be manufactured at the newly announced Gigafactory in Mexico